Imran Farhat Biography
Source(google.com.pk)
Born May 20, 1982, Lahore, Punjab
Current age 31 years 271 days
Major teams Pakistan, Biman Bangladesh, Habib Bank Limited, ICL Pakistan XI, Lahore, Lahore Badshahs, Lahore Eagles, Lahore Lions, Pakistan Reserves
Also known as Romi
Batting style Left-hand bat
Bowling style Legbreak
Relation Father-in-law - Mohammad Ilyas, Brother - Humayun Farhat
Career
Farhat made his senior debut aged 15 in a one-day match for Karachi City against Malaysia, together with three other players who went on to play Test cricket (Taufeeq Umar, Bazid Khan and Kamran Akmal). Three years later, in February 2001, Farhat made his One Day International debut, against New Zealand in Auckland, scoring 20 runs in a chase of 150 to win. After the tour of New Zealand, where Farhat played three Tests and three ODIs, he was sent back to domestic cricket before returning against Australia in the third Test of the 2002–03 series, where he made 30 and 22 in an innings defeat. However, he was retained for the home two-Test series against South Africa in 2003–04, where he scored 235 runs including a maiden Test century in a 1–0 series win, second behind fellow opener Taufeeq Umar.
A month later, Farhat played in an ODI-only series against New Zealand, which Pakistan won 5–0, and Farhat made three fifties along with his second international century, ending with 348 runs at a batting average of 69.60, once again the second-highest amount of runs – this time behind Yasir Hameed. The season was rounded off with another century, this time against India, where he made 101 to help Pakistan gain a 202-run first-innings lead and eventually won the match by nine wickets. However, Farhat tallied 81 runs in the other two matches, which Pakistan lost to lose the series 1–2.
Farhat was less impressive the following season, however, and in four Tests, two against Sri Lanka and two against Australia, he only passed fifty twice, ending the season with 199 runs at 24.87 before the selectors left him out for the third Test of the series with Australia. In September 2004, just before the 2004–2005 season, he had been dropped from the ODI side following the 2004 Champions Trophy, as he had failed to pass 40 with any of his last ten innings, and that included 38 not out against the non-Test nation of Kenya, 20 against ODI debutants Hong Kong and 24 against Bangladesh.
He continued to score heavily in the domestic competitions and a century in a practise game against the visiting Indian team was rewarded with a place in the squad to take on India in the Test series (2006). He returned to Test cricket in style, with an important half century in the deciding third Test at Karachi. He scored a brilliant unbeaten century in the final test against New Zealand in 2009. His brother Humayun Farhat has also played International cricket for Pakistan.
Career statistics
Test debut New Zealand v Pakistan at Auckland, Mar 8-12, 2001 scorecard
Last Test South Africa v Pakistan at Centurion, Feb 22-24, 2013 scorecard
Test statistics
ODI debut New Zealand v Pakistan at Auckland, Feb 17-18, 2001 scorecard
Last ODI Pakistan v South Africa at Birmingham, Jun 10, 2013 scorecard
ODI statistics
T20I debut Australia v Pakistan at Melbourne, Feb 5, 2010 scorecard
Last T20I Bangladesh v Pakistan at Dhaka, Nov 29, 2011 scorecard
T20I statistics
First-class debut 1998/99
Last First-class National Bank of Pakistan v Habib Bank Limited at Islamabad, Jan 22-25, 2014 scorecard
List A debut 1997/98
Last List A National Bank of Pakistan v Habib Bank Limited at Islamabad, Jan 27, 2014 scorecard
Twenty20 debut Karachi Dolphins v Lahore Lions at Lahore, Apr 25, 2005 scorecard
Last Twenty20 Faisalabad Wolves v Lahore Eagles at Rawalpindi, Feb 11, 2014 scorecard
Recent matches
Bat & Bowl Team Opposition Ground Match Date Scorecard
23 L Eagles v Wolves Rawalpindi 11 Feb 2014 T20
2 L Eagles v P Panthers Rawalpindi 10 Feb 2014 T20
4 L Eagles v Leopards Rawalpindi 7 Feb 2014 T20
2 Habib Bank v National Bnk Islamabad 27 Jan 2014 LA
40, 59 Habib Bank v National Bnk Islamabad 22 Jan 2014 FC
0/28, 10 Habib Bank v ZTBL Lahore 19 Jan 2014 LA
1/29, 0* Habib Bank v ZTBL Lahore 14 Jan 2014 FC
0 Habib Bank v Pakistan TV Lahore 11 Jan 2014 LA
300*, 2/4 Habib Bank v Pakistan TV Lahore 6 Jan 2014 FC
0/11, 35 Habib Bank v Sui Gas Lahore 3 Jan 2014 LA
Profile
A gifted young left-handed opener who threatened at one stage to solve Pakistan's perennial opening conundrum, Imran Farhat had a brief spell in the Pakistan side after success with the national under-19 and A sides. Farhat also evokes Saeed Anwar but only fleetingly; he bludgeons rather than times his runs. He was rather too cavalier in his early appearances in the Test arena, and was promptly discarded after the tour to New Zealand in 2000-01. However, he tightened his game and achieved much more success in the 2003-04 season. Tempering his impressive array of shots with better defensive technique, Farhat scored a deluge of runs in the home series against South Africa and New Zealand, being involved in a record four successive hundred partnerships with Yasir Hameed in the one-day internationals against New Zealand. He also notched up his first century in both Tests and ODIs during this season, and then went on to score a vital 101 in Pakistan's victory against India in the Lahore Test. But since the India series, he has fallen away. A mediocre series at home to Sri Lanka and away to Australia saw him falter, especially with the emergence of the other left-handed opener, Salman Butt. When Pakistan included only one specialist opener in the squad for the series against England in 2005 - Butt - seemingly it confirmed that Farhat, temporarily, was out of national reckoning. But as an opener in Pakistan, you are never out of national reckoning and sure enough Farhat was back for the final Test against India, where he scored a fifty. That performance saw him on the plane to Sri Lanka and an average series. But with openers becoming as rare as dinosuars in Pakistan, he was retained for the summer tour to England, where he again produced some mixed results. Despite failures in the first two Tests, a broken finger and a spate of dropped catches, he came back to score a cavalier 91 in the final, fateful Oval Test. Runs against West Indies at home were followed by a barren patch in South Africa. A first away hundred followed by a patient half-century in the Napier Test of 2009 has set him up for a long sojourn in the Test side. His ODI career has however hit roadblocks since he was dropped after an indifferent run of scores in 2006.
Imran Farhat
Imran Farhat

Imran Farhat

Imran Farhat

Imran Farhat
Imran Farhat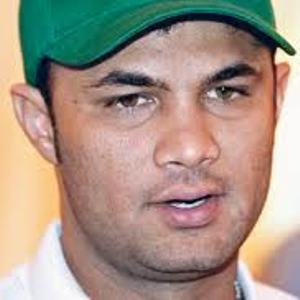 Imran Farhat
Imran Farhat
Imran Farhat

Imran Farhat
Imran Farhat